Water Uptake Reducer
"Greetings, R…. E…… here, just to let you know: I have been using by now 2x  ZeroIn on Pinot Noir and my other varieties-Malbec and Viognier
– In the last two days we had about 100 ml rain, NO SPLITTING!!!. Pinot Noir is specifically sensitive at this stage, as it is close to ripeness
I also use RipeMax as I know from previous years how it works!
Kind regards,   R….."  6 March 2011
see the full 2006 season Research report here
Results of 8 field trials on Kiwifruit – 2005-07
ZeroIn achieves its effects naturally through focusing the plant's growth into the roots of the plant. This retards upward sap flow to the top of the plant thus reducing water flow during rain events. The 'side effects' of this process is to
increase Dry Matter levels
reduce Standard Deviation levels of dry matter
maintain fruit at its existing size
reduce Fruit Splitting on stone fruit
retard plants going to seed
encourage root growth,
making it the perfect end-of-season spray.
It has no legally required withholding period,
ZeroIn can not be used on kiwifruit as we have chosen not to do the contamination test Zespri require, due to low interest in it from kiwifruit growers.
Trials on Gold and Green Kiwifruit
have shown a average of 25% increase in TZG payout over four replicated trial orchards
1% increase in Dry Matter over the last 14 days of growth – after spraying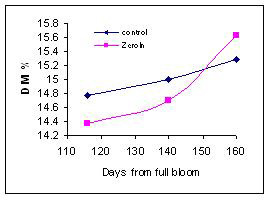 Dry Matter change over three sample dates
on Dominion Park Orchard
Application is 2 sprays a week apart, starting two weeks prior to harvest
Cost: $120 per ha
In the 2005 season
On ready to pick Gold Kiwifruit, after two applications of ZeroIn a week apart, followed by 10 days of rain,
the Dry Matter levels were .7% higher in the treated area.
The TZI (Taste Zespri Indicator)  was 30% higher
This achieved mostly due to the evenness of Dry Matter readings over the sample
Buy ZeroIn now